BBT (MAS 403) : Technical Information

| ISO | d | D | D1 | a | b | G | L1 | L2 | L3 | L4 | L5 | L6 |
| --- | --- | --- | --- | --- | --- | --- | --- | --- | --- | --- | --- | --- |
| 30 | 12.5 | 31.75 | 46 | 1 | 16.1 | M12 | 48.4 | 21 | 20 | 24 | 7.0 | 16.3 |
| 40 | 17 | 44.45 | 63 | 1 | 16.1 | M16 | 65.4 | 27 | 26 | 32 | 9.0 | 22.6 |
| 50 | 25 | 69.85 | 100 | 1.5 | 25.7 | M24 | 101.8 | 38 | 36.5 | 47 | 13.0 | 35.4 |
Features:
"BBT" Tool Holder Provides More "Rigid" Clamping than the Standard "BT" Tool Holders.
Achieves Higher "Radial Rigidity".
Improves Tool Life.
Balanced to 2.5G, 25000 RPM.
Material :- Case hardened steel, tensile strength in the core min. 950 N/mm²
Execution :-Case hardened to HRC 58 ± 2. Case Depth 0.8mm., Silver finish.
Accuracy :- 7:24 Taper Angle Class AT 3 As per DIN 2080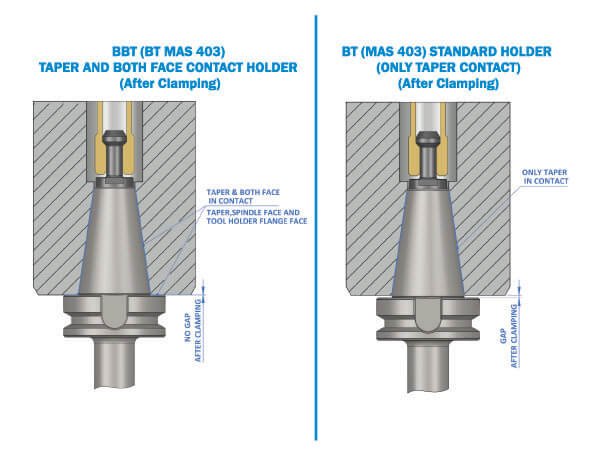 In BBT Tool Holder as mentioned Taper and both faces are in Contact, due to which spindle and holder acts as one single unit, this allows a Higher "Radial Rigidity" hence we get good surface finish and dimensional accuracy while machining, also low vibration at higher speeds which increases Tool Life. Hence BBT Tool Holder are remarkably significant in runout accuracies as compared to Standard Tool Holders.
BBT Tool Holders are only recommended to use in Calibrated BBT Spindle Machines.
Primary Applications
Face-contact tapers provide additional radial load capabilities due to the large spindle contact surface compared with standard ANSI B5.50 or MAS BT 403 tapers.
Excellent for long-reach axial cutting tools where cutting tip TIR is critical for part dimension achievement and machined surface location/
With the wide face-contact longer axial cutting tools with high radial loads will have less "bending" or improved dynamic stiffness and rigidity.The vibration dampening of these holders reduces spindle wear and extends cutting tool life.
Designed for use in CNC Machining centers With Face Contact spindles and automatic tool changers.
Principal Behind Face-Contact Technology
Prior to spindle clamping,the tool taper and spindle are in contact with each other to establish good taper interface and once clamped,face contact is made because the elastic deformation of the spindle clamping system provides the proper face clamping force between spindle face and tool holder flange face.
This simultaneous fit provides a strong spindle/tool shank connection for more accurate machining possess and increased tool life due to improved tool assembly (spindle-toolholder-cutting tool)
Face Contact holders are universally suitable for Drilling,Face Milling, End mill with radial loads, Reaming, and even grinding is machine control is capable. The vibration dampening of this face contact system reduces spindle wear and extends cutting tool life.
What is "BBT" series holder ?
BBT series holders are as per standard BT MAS 403.
These are taper and face contact holders. As spindle taper, spindle face and tool holder taper and face both comes in contact, the machine spindle and holder acts as one single unit. This allows higher radial rigidity and accuracy and we get good run-out on tool.