BT (MAS 403) DIN ISO 7388 - 2 : Technical Information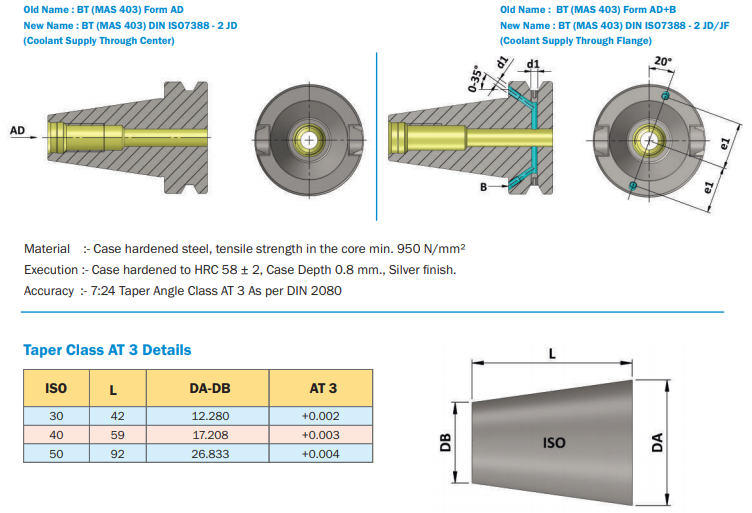 What is the difference between "BT" and "CAT" Tool Holders ?
BT tooling is symmetrical in regards to the spindle axis, which CAT tooling isn't. This provides BT tooling balance and greater equilibrium at high rates. BT Tooling seems quite similar and may readily be confounded with CAT tooling. The difference between BT and CAT is the flange design, depth, as well as the screw thread for the pull stud is not the same size.

BT Tool Holders use Metrical screw thread pull studs (retention knobs).

BT standard for tool holders is much like CAT tool holders and originated in Japan.If to compare BT to CAT tool holders – they can be readily confounded and appear quite similar, yet, they have distinct flange system and its own depth differs as well. In addition, the retention knobs/Pull Studs are very different. CAT tool holders and BT aren't interchangeable. Though both standards make use of the same NMTB body taper. That makes BT tool holders much more secure at higher speeds and when balanced.

BT tool holders together with HSK and CAT standards are one of the most used tool holders in CNC machines. They are best option for really high speed machines. BT tool holders are enabled to utilize ATC (Automatic Tool Change) technology to optimize the speed and productivity of production.